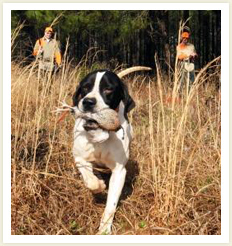 For 40 years, we have been producing lasting Quail & Deer Hunting memories. It's what bird hunting and deer hunting used to be like in Georgia and throughout the Southeast. And, still is at Burnt Pine Plantation.
FREE a $100 PRO-SHOP GIFT CERTIFICATE: Fetch Holiday Savings with a Burnt Pine gift certificate that comes with a bonus…  When she asks you what you want for Christmas "point" her to the Plantation. 

Specials



Deer Season remains open until January 10, 2016
Extend the deer season when the big bucks are very active.
Sporting Clays
Quail Hunting Schedule
Deer Hunting Schedule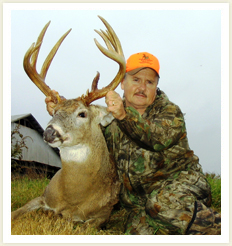 4,500 acres of land intensively managed for Quail and Whitetail deer plus Turkey. Located just an hour east of Atlanta, Georgia, we offer not only Quail hunting and Deer hunting, but Pheasant hunting, Dove Hunting, Mixed Bag, and Turkey hunting & fishing as well. Check out our Deer Hunting Specials.
With our 26 bed lodge and conference center, we have the perfect spot for Quail & Deer hunting getaways, corporate retreats or meetings, family gatherings, receptions, weddings, and simple "get away from it all" times far away from that hectic pace.
There is no "Roughing It" at the Plantation, come just once and you will be a customer for life.