Also, go to International specials for great hunting out side the U.S.
Save Over $550 on Your Fall Pheasant Hunt
Why travel all the way to South Dakota when great pheasant hunting is only 50 miles east of downtown Atlanta.  The average airfare to Sioux Falls is around $550, then in most cases you have to rent a car.  Instead just make the easy drive to Burnt Pine Plantation and experience supper hunting action. We offer pheasant hunting that rivals South Dakota starting Sep 14.  The cover is like up north, but the walks aren't as long.  The roosters are even more plentiful, and this fall you can experience generous No-Limit hunting.  The complete package offers Free Sporting Clays, Free shells, and outstanding food and accommodations. Get in on long tail hunting action and excellent dog work close to home.
See the specific offer: September Pheasants
$200 Special Three day Youth DeerHunt
Bring a youngster on a special rifle weekend deer hunt Oct 12-13 & 14th.  Georgia has set up this preseason special rifle hunt to expose more youth to the sport. The youngster must be 15 years old or under to qualify. You probably know someone deserving who fits into this category. You can bring him/her along for $200. We have reduced the price for the two of you to a total of $1,695 ($1,495 + $200) for the semi-guided three nights two day hunt package with meals and lodging included.  Since the youth will be under your direct supervision they aren't required to have a hunter safety card.  Either sex harvest is allowed. Our regular deer hunting rules and limits apply.  Pass along your love for the sport by making lasting memories and introducing someone to the outdoors. Call for reservations: (706) 557-0407 or email brian@burntpine.com  
PHEASANT CONTINENTAL HUNTS
Money back guarantee on Continental hunts if not completely satisfied.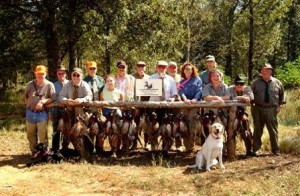 Hunters are placed in the 10 blinds surrounding a tower from which the pheasants are released. (Up to 20 guns can participate) The blinds are in varied open and wooded rolling terrain. The hunters are then rotated, so that each hunter will get a chance to shoot from each blind. 15 birds are released each round. The degree of shooting skill required will very from blind to blind. The historic average is a 56% recovery, while each shooter goes through 3-4 boxes of shells. It's kind of like a dove hunt, except the birds are bigger and faster.
You will also get a chance to see some of the best Labrador retrievers in Georgia go into action, retrieving the downed birds. P.S. It's the best hunting value at the Plantation!
Scheduled hunts: Call for dates (706) 557-0407
CLEAN UP HUNTS
It's like hunting in South Dakota, but closer to home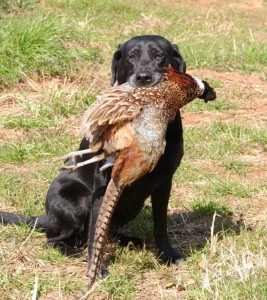 Join us the day after a Continental hunt and do a scratch walk up hunt for the escapees from the previous day. In addition to the pheasants, you may bump into a covey of quail or two. The hunt is $169 per gun, and you pay $20.99 per pheasant harvested and $9.10 for each quail. Guides, dogs, and transportation included. It's a lot of fun, and you will think you are hunting in South Dakota, except there is no limit!