Also, go to International specials for great hunting out side the U.S.
SUNDAY MARCH 12th PHEASANT CONTINENTAL SHOOT $80.00
Join us Sunday March 12th for a special Pheasant Continental Hunt. Come alone for $379; or you can share a post with a youngster 18 or under, or bring a dad 65 or older for only an $80 additional charge. It's like a dove hunt, with bigger faster birds, but unlike some dove hunts, the birds are guaranteed!  They fly high & fast, which makes the shooting very challenging. On this shoot we will do a 20 bird release minimum per post, making it a big 200 bird or more shoot. In addition come in time for lunch (included) and stay for after hunt refreshments.
Some very sporty shooting is guaranteed, and you will see some fantastic Labrador retriever work.
This is a good opportunity to spend some quality time with a future bird hunter, or reward the person who brought you up.  Burnt Pine is an outstanding environment to create new and lasting memories.
This is a very good value, with a 100% satisfaction or money back guarantee
PHEASANT CONTINENTAL HUNTS
Money back guarantee on Continental hunts if not completely satisfied.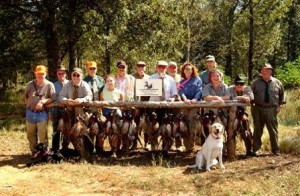 Hunters are placed in the 10 blinds surrounding a tower from which the pheasants are released. (Up to 20 guns can participate) The blinds are in varied open and wooded rolling terrain. The hunters are then rotated, so that each hunter will get a chance to shoot from each blind. 15 birds are released each round. The degree of shooting skill required will very from blind to blind. The historic average is a 56% recovery, while each shooter goes through 3-4 boxes of shells. It's kind of like a dove hunt, except the birds are bigger and faster.
You will also get a chance to see some of the best Labrador retrievers in Georgia go into action, retrieving the downed birds. P.S. It's the best hunting value at the Plantation!
Scheduled hunts: Call for dates (706) 557-0407
CLEAN UP HUNTS
It's like hunting in South Dakota, but closer to home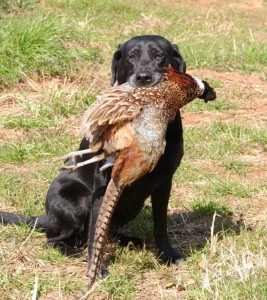 Join us the day after a Continental hunt and do a scratch walk up hunt for the escapees from the previous day. In addition to the pheasants, you may bump into a covey of quail or two. The hunt is $169 per gun, and you pay $20.99 per pheasant harvested and $8.85 for each quail. Guides, dogs, and transportation included. It's a lot of fun, and you will think you are hunting in South Dakota, except there is no limit!