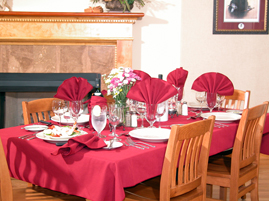 Experience Gourmet Dining Served with Southern Hospitality.
We pay as much attention to your dining experience while you are at Burnt Pine as we do your hunting. Only the best cuts of meat and the freshest vegetables go into our meals. All evening meals are preceded by a complimentary open bar featuring your favorite adult choices.
The evening dinner meal is a fitting way to cap off an excellent day of hunting. During the bird season five course plated meals are accompanied with fine wines, or if you prefer your choice of many other beverages. These gourmet meals are to be savored, but in a casual atmosphere.
Lunch is a buffet feast of Southern Home cooking. Soups, salads, vegetables, meats are always available. There are always too many choices, but what the heck you are supposed to be having fun once and a while.
Breakfasts, like the lunches, are always Southern from grits to sausage to your choice of eggs or pancakes. Fresh fruit and cereals are also on the buffet.
Concierge
Need something special on your visit to Burnt Pine? It could be anything from special food or dietary requirements, to allergies we should know about, or maybe its a special preference in drinks in the bar. We can arrange airport transportation for your visit as well. We want to make your visit to Burnt Pine special and hassle free; if it's legal we will give it a try. Contact martin@burntpine.com or (706) 557-0407
 Dining at Burnt Pine is part of the high quality Plantation experience. Some folks just stop in just to eat!
Sample Menu
APPETIZER: Warm ravioli made three ways with pheasant, duck, and venison; lightly covered with a brown martini sauce
SOUP: Squash or Pumpkin based on fresh availability
SALAD: Boston & romaine lettuce with Mandarin orange slices, kiwi, onion rings, and walnuts; served with fresh raspberry vinaigrette. Assorted dinner rolls
MAIN: Pheasants fillets with wine & mushroom sauce, mashed potatoes, little Le Seaur peas, and spiced apple rings
DESSERT: Sinful chocolate volcano
Appropriate selected wines are served with your fine dining experience, and the bar is always complimentary.