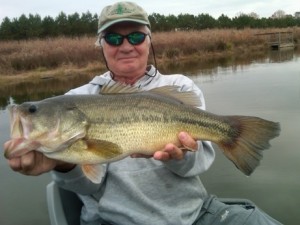 Bass Fishing at Burnt Pine
Catch Big Bass in Burnt Pine's Trophy Bass Lake. ten years ago we stocked Florida F1 strain female bass in one of our ponds. That's after we stocked it with threadfin shad. Last year the biggest caught was just over 9 pounds, what size whopper will come to the net this year? It could be you catching one over 10 pounds. With the advances of replica mounts you no longer have to kill the fish.  Recently we have added more big bass.
The trophy pond is catch and release, the lodge pond is stocked with catfish, bream and hybrids, those you can keep.
Daily rate for fishy the trophy pond is $250 per person per day. It includes the use of a bass boat with trolling motor.
Reservations are required contact brian@burntpine.com or call (706) 557-0407
Overnight lodging and food service is available.
If you have ever wanted to catch a big bass this is your chance!